Product Range
Vinquip is a project and design leader in processing technology for the:
- Tank Variations
- Wine Processing
- Water Treatment
- Sugar Equipment
Our capabilities extend beyond South African borders to Mauritius, Reunion and Madagascar.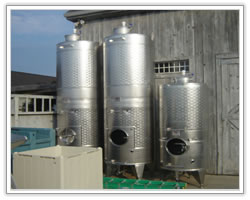 We design and supply equipment according to the clients needs, any alteration or turn key project, up to end user training and after sales service.
We supply equipment manufactured through local expertise and with the assistance of our European associates, the company is able to offer products of the highest quality and standards.

Our scope of work covers:
- Destemmer crushers
- Stainless steel conveyors
- Stainless steel floor drains
- Bins
- Transport bins
- Tanks - horizontal/vertical/square/rectangular
- Storage tanks on legs or flat bottom with heating or cooling jackets
- Pressure vessels for sparkling wine, beer, chemical liquids
- Stainless steel catwalks and access steps
- Heat exchanger
- Pumps
- Process pipelines
- Presses
- Filters
- Cooling/heating plant/temperature control
- Waste water/screen/air diffuser/air pump
- Fixed or floating aerator/ aeration tanks/static clarifier/degreaser

Please send us your enquiry on our contact form.